'Mumford & Sons Thrown Out of Atlanta Strip Club' – a dream of a headline which seemed to herald the moment we'd all been waiting for, when Mumford & Sons finally do something interesting. Sadly, the TMZ headline was somewhat misleading – while the Clermont Lounge is indeed a strip club, it turns out the band were mainly there to indulge in a spot of karaoke. And they weren't kicked out for performing an impromptu pole dance or wanking in public, but for trying to record banjo player Winston Marshal singing on their phones. Apparently taking pics in strip clubs remains a big taboo even when your lens is pointed at a bearded man in a buttoned-up gingham shirt. Anyway, the band got pissed off with the DJ repeatedly turning down the backing track to ask them to stop taking photos (and thus 'ruining' Marshall's song), which ended with the merry folksters being unceremoniously booted out. Amusingly, a bystander then also flouted the no cameras rule to film the moment for shaky, blurry posterity:
Arcade Fire being attacked after covering a framing shop with graffiti is sadly another slightly deceptive story. The band have been promoting the release of new single 'Reflektor' with a guerilla marketing campaign involving a symbol being scrawled in various places. In Austin, Texas however, a framing shop had the symbol stencilled with spray-paint instead of marked with chalk, displeasing one Arcade Fire fan whose wife works at the shop, and whose boss had to wash the symbol off along with a bunch of accompanying 'Reflektor' posters. "When I found out the logo was nothing but a commercial promotion I felt…used," said Ian Dille. "If you're an internationally renowned band that's defacing public and private property for promotional purposes, maybe go back to the drawing board, and think some more about how you want to let people know about your music". Told. To his credit Arcade Fire frontman Win Butler wrote Dille an apology, although really he should be apologising to the rest of us for the track itself, a collaboration with David Bowie and James Murphy that is so much less than the sum of its parts you can barely scrape it off the petri dish. Although the interactive video is quite good.
Something that could probably do with being a little more interaction from the public is the Mercury Music Prize, which announced its 2013 shortlist this week. Selected by a shadowy cabal of industry bods, or perhaps just the former editor of the Observer Music Monthly, this year's list is as uninspiring as ever and attracted an immediate wave of criticism on Twitter. The fact David Bowie is the current favourite sums it all up: not only is it hilarious that people are still trying to convince themselves that The Next Day is actually any good, but he's hardly deserving of the exposure (and award money) that could hugely benefit a smaller act (many of whom can't justify the two hundred quid it costs to enter).
While there are some decent albums on the list – Jon Hopkins, Laura Mvula, Savages and Arctic Monkeys have all released Albums of the Week on The Monitors this year – the award hardly seems to be keeping to its original remit of providing an alternative view of British music to contrast with the BRIT Awards. In fact, it'd be a huge surprise if most of this year's Mercury nominees don't also find themselves up for a BRIT too. The fact that there are no jazz, folk, hip-hop, metal or classical albums nominated is also a gross oversight, while My Bloody Valentine's Kevin Shields reckons his band's album was "banned" because it was released entirely independently. Whether that's true or not, one thing you have to admit is that the award is appropriately titled. Like its metallic namesake, it may be poisonous but it's also kind of fascinating…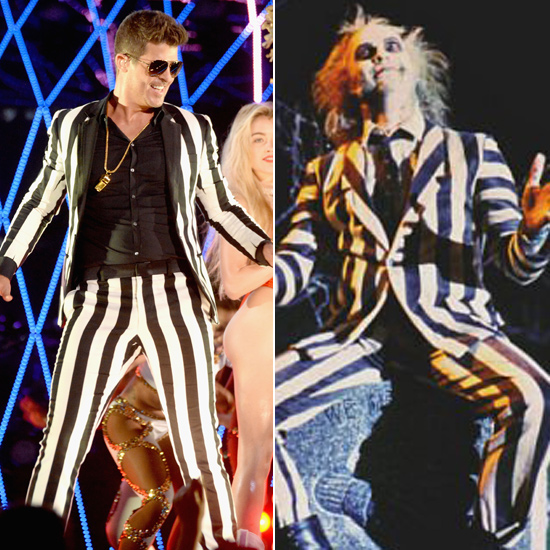 Another poisonous property that it seems to be impossible to escape is walking Ray Ban display stand Robin Thicke, although Edinburgh University are doing their best to eradicate the misogynistic imbecile from their campus, if nowhere else. They've banned his hit 'Blurred Lines' from university buildings as it "promotes an unhealthy attitude towards sex and consent". Thicke, doing his best to live up to his name, has claimed the track is "actually a feminist movement within itself," which is about as ludicrous as his plan to sue Marvin Gaye's estate after complaints started arising that the track was infringing on Gaye's hit 'Got To Give It Up'.
The partial banning of Thicke wasn't the only good news to hit music this week. As well as reports that the amount of tracks illegally downloaded dropped by a third between March 2012 and March 2013 (although we've yet to hear a convincing explanation of how these things can be accurately measured) and the news that David Cameron is ready to launch the Music Export Growth scheme, providing £3 million to independent labels to help promote their artists overseas, there was also a positive resolution for the labels who lost stock in the Sony DADC Centre fire during the riots in 2011. It's the police rather than the insurers who will be paying for the destroyed discs though, after judge Julian Flauxe ruled that the Riot Damages Act meant the police were at fault for not stopping the destruction. Flaming sambucas all round! Or maybe not…
Finally, some sad news: audio technology pioneer Ray Dolby died this week aged 80. Dolby was famous for having invented surround sound and developed revolutionary noise reduction techniques to eradicate tape hiss (hence The Independent's witty call for "a minute's silence"). Was it the rise of lo-fi indie bands recording onto antiquated four-tracks and releasing static-drenched cassettes that finally finished him off? We shall never know…
By Kier Wiater Carnihan