This hot weather has given us a thirst…a thirst for NEWS. Stick a straw in this and suck down some information hydration…
One of the weirder bits of news so far this week is that noted hipster Rupert Murdoch has bought a 5% stake in the Vice network . Judging by what happened last time he tried to make an inroad into youth culture by buying MySpace, some business analysts may be tempted to deem this, in Vice parlance, a 'don't' (although Forbes reckon it's a good call). Those who value Vice's independence, as an organisation that increasingly revolves around reporting, may also be concerned. However, we suspect that Murdoch's actual motivation is that, with the 'Ban Page 3' campaign in full swing, he wants to make sure he still owns a publication that regularly features plenty of tits…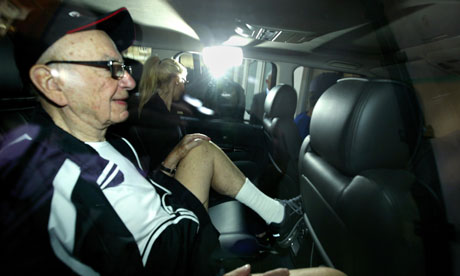 An investment that hasn't gone so well is HTC's 50.1% stake in Beats. The good Dr. Dre's headphones company already bought back half that stake last year, and are now looking to buy out the minority shareholder completely. Seeing as Beats' revenues have grown by 500% in the last three years, while HTC is preparing to announce its first ever loss in the third quarter of this year, the move is maybe not such a surprise. The headphones company is reportedly searching for a new partner. We await the next episode…
Dre's old mucker Eminem is in the UK & Ireland at the moment, a tour which has produced a few episodes of its own so far – although for once the rapper isn't behind any of them. Over 60 of his fans were arrested at Saturday's show in Slane, Ireland, for drug, assault and public order offences. However, it was support act Plan B who took the most offence; he cut short his set after growing a little 'frustrated' with a lack of crowd response. "Come on you cunts!", was one witty rejoinder he fired at the unenthusiastic punters, calling them the "lamest fucking crowd of my life" and telling them they "should be ashamed".
Perhaps then realising that it was his job to motivate the crowd and not vice-versa, he tried to foster some nationalist bonhomie: "I'm from Wexford, Loch Gorman, so give us some love". Ben, you were born and raised in London mate. Still, he wasn't the only one to embarrass himself: one girl was snapped giving a lucky lad some oral relief in the crowd (no wonder no one was watching Plan B). Unfortunately, that pic soon found itself all over the internet. Ouch. And no, we're not giving you the link you dirty urchins…
Still, while you'd expect an Eminem audience to cause something of a ruckus, it seems they were outdone this year by fans of the Stone Roses. Apparently there was a nearly 800% rise in local crime after the band's Finsbury Park gigs, which some fear may effect future gigs happening in the park. Incidents reported included "violent brawls, public urination and robbery from motor vehicles", although surprisingly there's no mention of the biggest criminal act that took place over the weekend: Johnny Marr's support slot…
There's better news in the slightly larger area of Germany, which has just seen music sales rise 1.5%, the first boost in a decade. Naturally, a rise in digital sales is mostly to thank, but even the drop in physical sales has slowed significantly. Wunderbar!
Good news in Wales too, with the third annual Welsh Music Prize nominees announced. Neon Neon and Trwbador head a strong list, although we'll be rooting for Sweet Baboo…
Good news also for Kendrick Lamar, who Songkick have named the hardest working festival act of the season. Truly the man can do no wrong right now, although the fact that other names on the list include Of Monsters And Men, Calvin Harris and Bloc Party kind of makes us glad we haven't been to more festivals this year…
Certainly we're glad we weren't at the festival that The Calling were playing in Michigan on Saturday. Their singer, Alex Band, was abducted, beaten, and abandoned on some train tracks with a fractured lower spine (among other injuries) after the band had played. Surely their set can't have been that bad? Band is now recovering in hospital, although it seems his pride has also been severely damaged after some cynics speculated that the whole thing was just a publicity stunt. Come on now, even Robin Thicke wouldn't fracture his own spine for attention (more's then pity)…
Thicke has instead managed to grab more column inches by doing something even more reprehensible: suing Marvin Gaye's family. The late singer's estate had been rumoured to be readying a lawsuit against Thicke, suggesting that his 'Blurred Lines' hit ripped off Gaye's 'Got to Give It Up'. Thicke has bizarrely preempted this by, er, suing them instead – not for money, but just so he can get the court to rule that his song does categorically not constitute an infringement. Touchy!
And in other ridiculous legal news, Chubby Checker has been given the go ahead to sue Hewlett Packard over the namesake app they launched last year that allows men to, well, check the size of their chubby. While HP only sold 88 copies of the app before legal proceedings started, roughly earning them a sweet $20 total, Checker's indignation is still aroused, and he's reportedly erecting a strong case…(sorry, so sorry)…
To the best news of the week. Prince is back. And, gloriously, this is the artwork for his new single. Just superb:
And finally, sad news for print music journalism with virtually every music magazine experiencing a drop in circulation in the first half of 2013. The Fly were the worst hit, posting a 28.1% drop, with NME again falling another 13.2%. Obviously everyone's now reading The Monitors instead…
By Kier Wiater Carnihan